With Spotify being one of the most extensive music streaming services available, some would obviously try to use it for DJing. With millions of tracks at your disposal, you can easily use this streaming service for all your party music.
Because of the instant access to all your favorite music tracks, this platform is a great choice for DJing at parties. A wide range of music genres is also available, giving DJs the flexibility to use it with almost any type of private party.
We are going to investigate and see how you can use Spotify for DJing at any party with access to songs you wouldn't have anywhere else. So let's get right into it.
It Is Very Easy
You don't need to be a professional DJ to do your DJing gigs at private parties.
The first step to get started is downloading Spotify to your device; this can be your laptop, iOS, or Android mobile device.
To install it on your Android device, you can get it from the Google Play store and download the app for free. All iOS mobile device users can get it for free here for a complete and easy download and setup on your devices.
You can also download it for your Windows laptop or install it on your Mac PC for free. To use Spotify for DJing, you must register as a Premium user to eliminate the ads.
If you suspect that the venue where you are going to DJ doesn't offer Wi-Fi, you need the Premium option to use offline mode. There are several Spotify Premium packages to choose from that will suit your personal needs and will not cost too much.
The following are a couple of ways in which you can use Spotify for DJing at your parties to show off your skills.
Use Spotify DJ Mode
The first method we will look at is using Spotify directly for DJing with your preferred and favorite playlists. Follow these steps to set Spotify up in advance so you can use it for DJing at any simple music party.
Sign Up
After downloading and installing the app on your device, you need to sign up for a user account.
Create a Playlist
The next step is to create a playlist for your next party, which can be done through the "create new playlist" menu option. Rename it and save the playlist; you can also make it a collaborative playlist so your friends can access it.
To share it with your friends, you can copy the playlist link and send it via a message to them so they can add songs.
Add Music
You can add music to your playlist after you create it by searching on Spotify for the relevant songs you want to play. You can also add music from your PC to this playlist after creating it for quick, easy access to different audio formats.
Connect to an Audio System
The next step is to connect to your speaker system, which can be a Bluetooth speaker or any other audio output device. What type of audio system you use is entirely up to you, your budget, and what is easiest for you.
Add a Nice Touch
If you want it to sound more professional without silent gaps between songs, a nice feature is available. You can crossfade songs so they will smoothly transition to the next song without the awkward silent time between songs.
It is important to note that Spotify DJ mode is not meant for professional DJing and cannot be used for mixes and other applications.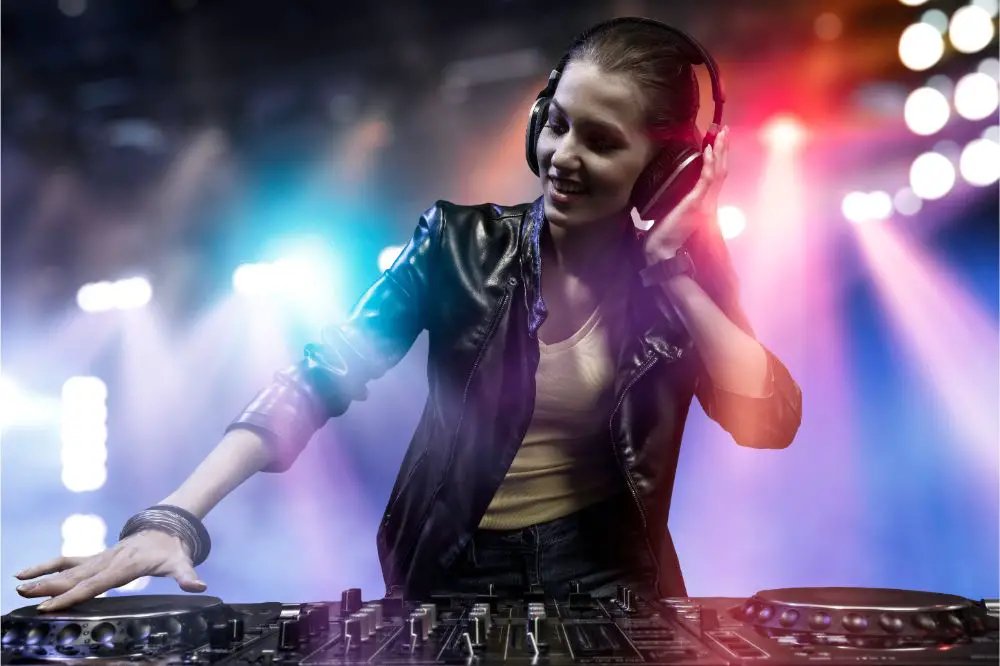 Use DJ Software With Spotify
This option is best for professional DJs, but amateurs can make the best of their skills with third-party professional DJ software. The Djay app is currently the most popular DJ software option available to use with Spotify for streaming with great output formats support.
Learn more here about how to use the app and DJay Pro to DJ with Spotify, even as a complete beginner. You can harness DJ software to help you use Spotify without going Premium, which is especially great for beginners.
Several other apps can be used with Spotify so that you can DJ at home parties without any problems.
Sidify Music Converter
With Sidify, you can download and convert any song from Spotify without using any of the Premium options. This is great for those who don't want to go professional but just want to have fun at home parties.
Go to their website and get a free trial to see whether this is a good option. You will be able to convert all your Spotify tracks to a range of music formats to make them easier to use.
At up to five times the speed of conversion, you can easily convert a long list of your favorite tracks without losing time. What is also great about this app is that it will retain 100 percent of all your music's data so you can keep track.
You also get free updates from the app to keep your music current and your playlist up to date with the best quality songs. The Sidify music converter is a great option for those who want to play around at parties and house events.
Virtual DJ
Professional DJs use this software to mix, and it is used for a wide range of DJ applications. Unfortunately, Virtual DJ is no longer licensed to be used directly with Spotify, but there is a way to get passed this drawback.
The TuneFab music converter can effectively be used to convert Spotify music to MP3, MP4, WAV, and many other formats. This can then, in turn, be used for all types of DJ events in Virtual DJ playlists without any compatibility problems.
With Virtual DJ, you have a wide range of tools at your disposal, making it a great option for professionals and amateurs alike. This is the app to use if you want to make professional mixes and do more than just crossfading between songs.
You can access instant acapella and instrumental options to make your DJing sound more professional with much better output options. You can mix and remix songs on the go without interruption or add vocals over the beat of another song.
There are no DJing limits with Virtual DJ and the Tunefab converter in your arsenal when you want to use it with Spotify tracks.
Pacemaker
Regarding compatibility with Spotify and Apple Music playlists, this DJ software provides a simple sync option for quick and easy access. Pacemaker gives you instant access to millions of songs that can be used with the automix feature for seamless mixes.
The interface of this app is designed to give you quick access to your playlists with a virtual turntable for professional DJs. This app is also a good option for those who are learning the DJ trade and want to practice their mixing and other DJ skills.
With the built-in messenger feature, you can quickly and easily share your mixes with others to use at their parties. Even though this is not a professional DJ app, many use this for their mixes and to help improve their DJ skills.
Having instant access to millions of Spotify tracks makes it a great option for amateur DJs. You also have access to all the playlists you want without the need to convert the tracks to popular formats.
JQBX
This app allows you to make great mixes if you sign up for any of the Spotify Premium options available. This means that all your mixes will be ad-free and you can use JQBX free of charge to create your playlists for DJing.
This app is a bit limited regarding the queuing function, and you don't get the most recent lists from Spotify. You do have a chatroom at your disposal where you can get in contact with other entry-level DJs and exchange ideas.
You can use this DJ controller app if you want to play your own Spotify music mixes at house parties with your friends.
Conclusion
There are many great DJ controller software available that are used by professionals, such as Traktor and Lerato DJ apps. But these apps don't have license agreements with Spotify and cannot sync with this music streaming service.
Luckily, the apps we mentioned are great for practicing your DJing skills with music from Spotify.