With Electronic Dance Music (EDM) becoming increasingly popular, there has been a growing number of DJs. Thus, most EDM enthusiasts want to know who among these many DJs is bringing the best of the genre.
In this article, we round up the top 10 DJs who have the world rocking to their beats and revelers dancing to the mixes. Read on.
1. David Guetta
At number one, we have David Guetta, a French DJ who has been in the game for two decades. Apart from being a DJ, he is a music producer, sound engineer, and songwriter. He is among the bestselling solo artists, with more than 65 million singles and 30 million albums sold globally. Because of his technical prowess and great taste in music, he is a top-rated DJ in electronic dance music.
The "One Love" album released by Guetta in 2009 is what gave him a breakthrough in the mainstream. It included hit singles such as "Getting over You," "Memories," "Sexy bitch" and "When Love Takes over." As a result, Guetta has won two Grammy awards, one Billboard Music Award, and an American Music Award. In addition, he has been ranked as the number one DJ in DJ Mag Top 100 survey in 2011, 2020, and 2021.
2. Armin Van Buuren
Armin Van Buuren is a Dutch DJ born and raised in Dutch. He is known for his great expertise in playing progressive house tracks. His music career started at an early age. At 14 years old, he was DJing in local bars. His first hit track was "Blue Fear," released in 1997, followed by "Communication," released in 1999. In 2000, Van Buuren released his first compilation album, "A state of Trance," which consisted of a mix of vocal trance and progressive house.
Armin Van Buuren is popular for hosting a radio show known as A State of Trance which broadcasts to over 40 million listeners worldwide. Thanks to this show, all six albums are hits. So much so that he has been voted four times in a row as the number one DJ in DJ Mag Top 100.
He was ranked number four in 2015, 2016, 2019, and 2020, as well as in the third position in 2017. In 2014 his single "This is What it Feels Like" was nominated for Grammy awards, becoming the fourth trance artist to be nominated for the awards
3. Tiesto
Tijs Michiel Verwest, popularly known by his stage name Tiesto, was ranked the best DJ three times in a row by DJ Magazine in 2002, 2003, and 2004. In 2010/2013 polls by Mix Magazine, he was named "The greatest DJ of all times." And in 2013, he was ranked by DJ Mag magazine as "The best DJ for the past 20 years."
He rose to the spotlight after his first album, "In My Memory" became a hit. In 2004 Tiesto released his second album, "Just Be," and became the first DJ to perform at an Olympic Event. He released his third album "Elements" in 2007, which ranked at number one on Billboard Top Electronic Albums and the Belgian Album chart.
In 2008 it was nominated for multiple Grammy awards. His fourth album, "Kaleidoscope," and fifth, "A Town Called Paradise," were released in 2009 and 2014, respectively. In 2014 Tiesto won a Grammy award for the best-remixed recording for his "All of Me" remixed version.
4. Martin Garrix
Martijn Gerard Garritsen is a DJ and record producer from the Netherlands. He has a degree in sound production and is one of the top-rated DJs in the world. Garrix made his way to the mainstream in 2013 through his solo release "Animals," which became a hit and made him the youngest DJ to reach number one on Beatport. In 2014 he performed live at the Ultra Music Festival and made several debut tracks.
In 2016, 2017, and 2018, he was voted the number one DJ in DJ Mag Top 100. With his skills and expertise, Garrix continues to give his listeners some of the best and most unique mixes of progressive house. Martin remains the most followed EDM DJ, with 15.6 million followers on Instagram. Other hits by him include "Forbidden," "In the Name of Love," and "Scared to be Lonely."
5. Hardwell
Robbert van de Corput, commonly known as Hardwell, is a Dutch DJ from Breda, Netherlands. He specializes in electro house and progressive house music. Hardwell showed a passion for music at an early age. When he was four years old, he began piano classes and joined a music school. At the age of 14, he was producing electronic dance mixes and uploading them on the internet and was offered a record deal by Digidance. He entered the mainstream in 2009 with his "Show Me, Love" bootleg.
Hardwell founded his record label Revealed Recordings in 2010 for the sole purpose of releasing electronic dance music. In 2011 he collaborated with Tiesto to release a track called "Zero 76," which became a hit and appeared on Dutch single charts.
Hardwell made the first entry in the top 100 DJs by DJ Mag in the same year. And in 2013 and 2014, DJ Mag rated him number one. He has since collaborated with artists such as Jason Derulo, Like Mike, and Martin Garrix to produce hit tracks.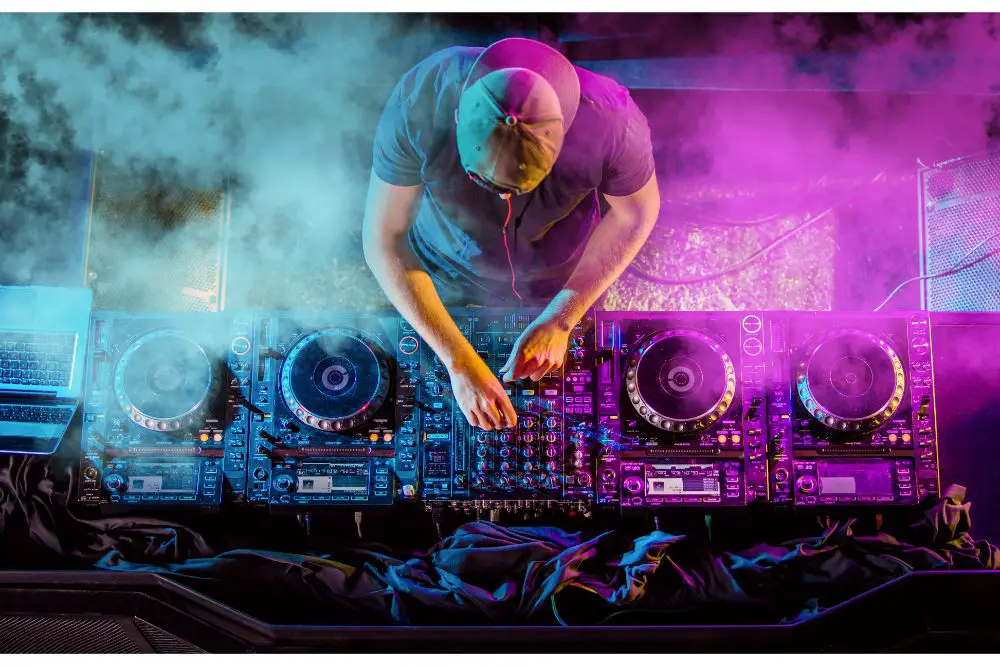 6. Dimitri Vegas & Like Mike
Dimitri Vegas & Like Mike are a DJ Duo of brothers Dimitri and Michael Thivaios of Greek origin but based in Belgium. They are among the top-rated DJs in electro house, and like other leading DJs, they started their careers at an early age.
Their first step was at local clubs and Beat FM radio. They released their first single, "Liquid Skies in 2009" and founded their record label Smash the House in 2010. In 2015 they released two tracks, "The Hum" and "Higher Place," both of which made Belgian charts at number one.
The duo was voted the world's number one DJ in the Amsterdam Dance Event of 2015. They also made number one in the Top 100 DJs by DJ Mag. Dimitri Vegas & Like Mike were responsible for writing "Tomorrowland" and the track was their first top 20 hit. The duo continues collaborating with DJs such as David Guetta, Martin Garrix, and Hardwell to produce hit tracks.
7. Afro Jack
Nick Leonardus van de Wall, known by his professional name, Afro Jack, is a Dutch DJ and music producer from Spikiness, South Holland. Like other top DJs, his passion for music started at an early age and he was playing piano at five years old. He started producing tracks at 11, and in 2007 he founded his record label, Wall Recordings. His first debut single under his artist name, Afro Jack, was "In Your Face," released in the same year.
Afro Jack became popular in 2014 after releasing his debut album "Take Over Control," featuring Eva Simons. In 2010 he entered the top 100 DJs Poll by DJ mag and was at number 19. Afro Jack ranked number nine, seven, and nine in 2011, 2012, and 2013, respectively.
In 2021 he was at number six. Afro Jack has released many hit tracks in collaboration with other artists. Some of these hits include "Give Me Everything" by Pitbull and "Who Runs the World" by Beyonce. One of his latest hits is "Hey Mama," featuring Nicki Minaj, David Guetta, and Bebe Rexha.
8. Chainsmokers
Chainsmokers is an American Duo comprising Alexander Pall and Andrew Taggart. The two are electronic DJ producers that started by producing a remix of indie tracks. They became a hit in 2014 with their song "#Selfie," which ranked in the top 20 in many countries.
In 2015 they released their debut EP "Bouquet" and became featured in "Roses," a track ranked in the top 100 in the US. In addition, they won a Grammy award for Best Dance Recording for "Don't Let Me Down," a hit featuring Daya.
Their first single to become number one on Billboard Chart was "Closer," featuring Halsey. Apart from winning a Grammy, the duo has won two American Music Awards, iHeartRadio Music Awards, and seven Billboard Music Awards. Additionally, the duo was ranked in 2019 by Forbes as the highest-paid DJ.
9. Steve Aoki
Steve Aoki is an American DJ, music producer, record executive, and music programmer. His style of music is electro-house, and in 2012 he was named the highest-paid electronic dance music DJ by Pollster. Steve Aoki gained a lot of fans in colleges because of his touring. He is also known for his acrobatic stunts, such as throwing cake on stage and popping up champagne bottles.
Aoki has released many studio albums that made it to the Billboard Top 100. A notable album of his is "Wonderland" which received a Grammy nomination for Best Dance/Electronic Album. In addition, Steve Aoki has collaborated with many artists to release hit songs. Some artists include Iggy Azalea, Backstreet Boys, and Afro Jack. As a result, he was rated at number nine and 10 in DJ Mag's Top 100 in 2020 and 2021, respectively.
10. Marshmello
Christopher Cornstock, known as Marshmello, is an American DJ and electronic music producer. In 2015 he became popular after uploading his debut song "Wavez" on Soundcloud. He released his first studio album, "Joytime," in January 2016, and in May, he released a platinum-certified single, "Alone," which ranked at 60 on the US Billboard Top 100. In 2017 he produced the multi-platinum single "Silence" in collaboration with Khalid and another best-selling single, "Wolves" with Selena Gomez.
Marshmello released his second album, "Joytime II," in 2018, and in August, he collaborated with Bastille to release "Happier," a single that ranked at number two on the Billboard Hot 100. In 2019, Forbes ranked Marshmello as the highest-paid DJ earning $40 million a year. He collaborated with Juice Wrld in 2020 to release "Come & Go," a hit song that became number two on Billboard Top 100. In 2021 his album "Shockwave" was nominated for a Grammy award.
Conclusion
Most top-rated DJs started at a young age and grew their talent slowly. While some attend music school, most are self-taught DJs driven by a passion for excelling and producing hit tracks. Apart from DJing, many top-rated DJs are also music producers and songwriters who team up with other artists to release hit songs.