There is no doubt that Marshmello is one of the hottest DJs. Known for his novelty helmet, he is responsible for creating original music that appeals to fans of all ages. Marshmello is a creative genius who takes his time creating the perfect mix. But what equipment does he use, and does the type of equipment affect the quality of the music created?
Let's take a closer look at the DJ controller that Marshmello uses, focusing on its features, the pros and cons of this studio equipment, and how FL Studio can be used together with a DJ controller to create music that is of the highest sound quality.
Marshmello's DJ Controller of Choice
When you spend your days making music on software like FL Studio, you need good studio equipment to pair with your digital audio workstation. DJ Marshmello uses only the best controller product, which is Pioneer sound and DJ equipment for this DJ.
He started his journey using GarageBand as his software of choice and learned how to master cool effects on a digital media deck. Now having moved on to more expensive equipment with many control buttons, the DJ uses several remix decks to capture his iconic sound.
With Pioneer as his brand of choice, he has full control over music and music production capabilities at his fingertips. The Marshmello DJ Controller is one of the best of its kind.
Here's what DJ Marshmello uses to create the best electronic music samples:
The Pioneer DJ CDJ-2000
The Pioneer DJ DJM-900NXS2
Pioneer RMX-1000 Remix Station
Pioneer CDJ-1000
With this collection of software synthesizers and other equipment ranging from studio monitors to keyboards and headphones, Marshmello gives the ultimate studio and stage performance.
While more expensive DJ equipment might give you a clearer, crisper sound, the music created is solely down to the skill and creative mind of the artist. Pioneer has an excellent range of studio equipment to match any budget and skill level and is easy to use. If it's good enough for Marshmello, it should be good enough for any DJ.
Pros and Cons of Pioneer Studio Equipment
While every DJ has a favorite brand of choice, Marshmello uses Pioneer products. Let's take a look at the pros and cons of this studio equipment to get a better understanding of why this equipment is used to create digital audio workstations for pro music creators like Marshmello.
Pros
Pioneer products are known for their clear playback.
They are attractive in design and are relatively cheap in comparison to other brands.
Pioneer's range of studio equipment can be used in any room and has pitch faders, cue buttons, and a fade button to control the sound created.
Cons
There is enough bass for some DJs and music producers.
Higher volumes are known to cause some distortion.
There are cheaper brands available that do the same job.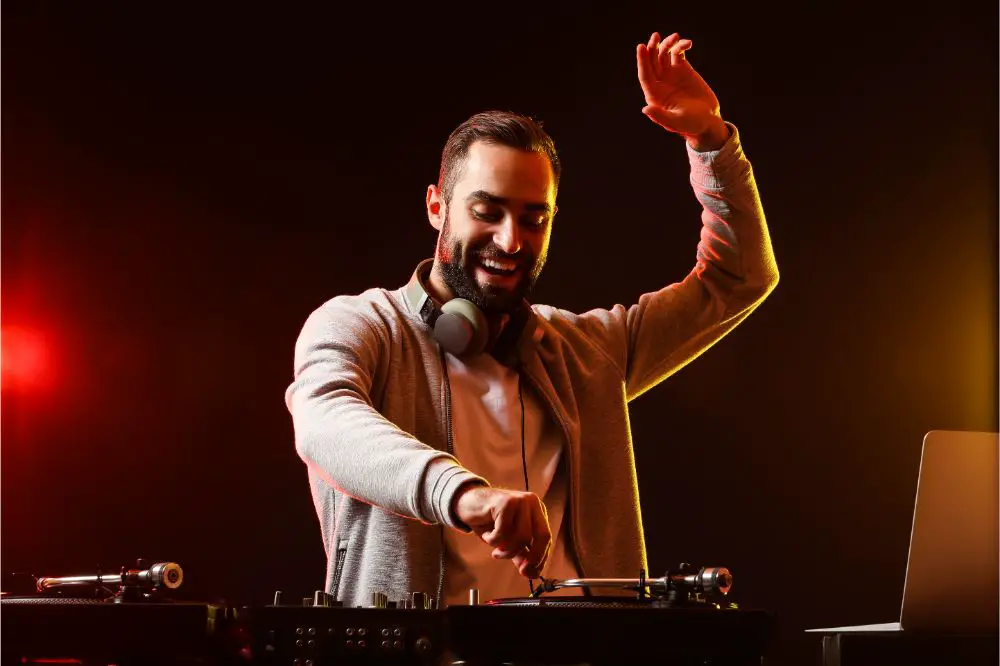 Why FL Studio is The Best
FL Studio comprises an assortment of beginner-ready, simple DJ software and is a popular software of choice for many DJs. Paired with the best equipment, you are guaranteed a collection for performance and the ability to create custom sound effects.
Available at a reasonable price, this studio software allows for flexible performance. Used in the studio or for a stage performance, it can be paired with any type of DJ equipment with buttons.
While many DJs pair it with their favorite controllers, FL Studio software can be used with just about any digital DJ controller, including the CDJ-2000 Nexus controller that is popularly used by Marshmello. With an excellent digital output that makes use of coaxial output technology, the sound and music that can be created are phenomenal.
Other Controller Brands to Look Out For
Other famous and high-quality controllers are any from the Pioneer range and the Native Instruments controller range. The who's who of the music scene typically use these controllers, using remix stations with software plugins and a built-in sound card to create their beats.
Creating a digital audio workstation can be complicated, but choosing an audio interface should be based on the type of music you wish to create and the hardware unit you are able to support with your laptop or computer.
While these are typically expensive to purchase, choosing one with the lowest price is not the best idea, and you should first do some research on the brands available before making your final decision.
Native Instrument is an exceptional brand and, with comparative prices, is a world leader in digital audio workstations and other DJ equipment.
Choosing the Best DJ Controller
If you have dreams and aspirations to be the next Marshmello or Chris Comstock, as he is referred to off-stage, choosing the best DJ controller and equipment is crucial.
There are a few steps that you should take when on the hunt for the best DJ controller. They are:
Step #1: Try out a number of DJ controllers before you buy them. Read reviews, visit DJ forums and online blogs, and research what professional DJs use to create their music.
Step #2: Learn more about the brands available. Visiting an online DJ forum is a great idea, and so too is a site that compares brands and prices for you. These will often list all the features of each piece of equipment, down to the audio cable used, and can be a great source of information.
Step #3: Set a clear budget. Remember that DJ controllers can be expensive, so be realistic when setting your budget. Look for cheaper controllers where possible, but buy from a reputable brand to ensure that you are buying a quality piece of equipment.
Step #4: Take your skills into consideration. Before you waste your hard-earned money on a piece of equipment that you have no idea how to use, think about your current skill level, and purchase a DJ controller that will be both easy to use and allow you to grow. Look for bundle packs or starter packs that are available on most online music retailers.
Step #5: Don't go with the first controller you see. Shop around, hunt for bargains, and chat to other musicians to see what equipment they use to create their music.
Conclusion
If you want to be a big star like Marshmello and wear a novelty helmet, you will first need to purchase a good DJ controller board. Marshmello uses the Pioneer range of DJ studio equipment, but this can be rather pricey. Start small and build up your collection as your skill level grows, and spend only what you can on a good piece of equipment.