When starting as a DJ, you may wonder what equipment you need for your setup. Choosing DJ equipment for your basic setup may seem overwhelming and a tad difficult, but it doesn't have to be a daunting task. Before making any rentals or gear purchases, it is important to know and consider the components involved.
Although there are numerous options for DJ equipment and software, the essentials you need as a beginner are a DJ controller, DJ software, mixer, headphones, PA system, and input sources. Let's take a look at what you need to keep in mind.
Renting and Borrowing Equipment
You must first consider if you will be buying your DJ equipment or renting/borrowing what you need. We recommend renting highly acclaimed equipment if you've decided to rent the equipment. Using such equipment will help you learn more about the product and you'll be able to use it more efficiently.
Renting or borrowing equipment will help save you a lot of money. Professional setups can be quite expensive, and renting/borrowing DJ equipment will help you test different equipment while improving your skills.
You'll also learn which equipment is the best in the market. When you finally decide to buy your gear, you will have tried out different brands and products and will be sure what will suit you best. However, it is important to take complete care of any rented or borrowed equipment.
Different Types of DJ Setups for Beginners
As a beginner DJ, several types of setups are available to choose from. Some types of setups require less equipment while others require more. You only need a laptop and the right software to achieve the most simple setup. Other small setup options involve using two turntables and a mixer.
To upgrade these simple DJ setups, you may add a laptop with a DJ interface package to provide additional options and effects. Adding a DJ controller to your equipment will give you even more flexibility. And if you're working with MP3s rather than vinyl or CDs, a small setup that includes a laptop, DJ controller, software, and audio interface might be just what you need as a beginner.
Equipment needed for a DJ Setup
Although there are different setup options a DJ may choose from, the setup of a professional DJ usually includes:
Input devices

Mixer

Laptop

DJ Software

Controller

Headphones

Speakers
1. Input devices
To successfully put tunes together, you need at least two input devices. If you're choosing within a limited range of devices, you may choose between turntables (record vinyl players) and CD decks. A wider range of input devices may include DJ controllers and CDJs/XDJs, allowing greater flexibility.
If you're on a budget, the best course of action will be to get a DJ controller. This equipment is cheap and can easily be gotten by entry-level DJs, particularly those who dabble at house parties and other small events.
You will need more specific equipment if you want to get involved in bigger gigs such as weddings or clubs.
– CDJs. These are common in music venues and are accepted as standard. They are compatible with laptops and are mostly used instead of CDs to play music. When buying brand new or second-hand, check for digital music inputs such as USB ports.
– DJs. These are considered the evolved version of CDJs, which allows you to DJ music stored on a USB stick or laptop.
– Advanced controllers. Advanced DJ controllers offer the opportunity to be more than an ordinary DJ. With this controller that offers beat pads and FX buttons, you can be a performer, adding characters to your DJ sets.
– Turntables. These are the classic choice for a DJ setup. With these, you can DJ with traditional record vinyl, incorporating any number of classic tracks to execute that authentic scratch sound. You'll need a laptop and DVS equipment to DJ with vinyl with digital music.
2. Mixer
The mixer is the most important part of a professional DJ setup. It is a kind of audio mixing console that allows the DJ to apply effects and perform tricks while transitioning seamlessly from one song to the next. The end product is the smoothest sound mixes or mashups.
Mixers can also be used to tweak sounds in a DJ's tracks. You can control the slider to scratch the record, and you can also control tone, volume, and FX.
You can buy mixers with 2, 4, or more channels. With each additional channel, there's more room for connections to input devices such as CDJs and turntables. 2-channel mixers are the cheapest, and they will suffice for you as a beginner. If you want to expand your DJ setup, a 4-channel mixer will be a great choice.
Mixers can be grouped into basic, advanced DJ mixers, and DVS (Digital Vinyl System) enabled mixers.
– Basic Mixers. These mixers often include crossfader, equalizing filter knobs, master volume, and trim/gain controls. They are great if you're looking to connect input devices such as CDJs. They are also excellent for learning the basics of beat matching and mixing techniques.
– Advanced Mixers. These DJ mixers provide a way of adding FX to the master sound or even applying FX to each channel. They also offer USB inputs to record your mixes and access digital music.
– DVS-Enabled Mixers. The audio interface within this mixer sets it apart from other mixers. It allows the DJ to connect to a laptop that has DJ software. With a mixer like this, there's no need to purchase a separate audio interface, and this saves you space and gives you more value for your money.
3. Laptop and DJ software
These days, laptops are quite popular in DJ setups. To DJ with a laptop, the laptop needs to have DJ software installed on it, and the software needs to be compatible with your DJ equipment. We recommend using a fast laptop with high RAM and processor speed.
4. Controller
A simple DJ setup comprising a laptop and controller is one of the most popular setups among modern DJs. In the absence of CDs or vinyl records, a DJ controller is what you need to create a viable digital setup.
Controllers can function as turntables and mixers, allowing a DJ to manipulate the DJ software easily. With a DJ controller, you can mix music using knobs, jog wheels, faders, encoders, and other controls.
5. Headphones
A pair of headphones is a key DJ accessory. It allows DJs to play songs rhythmically by determining the right timing. With headphones, a DJ can also listen and mix with great precision.
As you'll be wearing your headphones for several hours, getting one that will comfortably suit you is crucial. When shopping for headphones, check for rotating ear cups, accuracy in the low end, and good isolation. And ensure it is comfortable to wear. Also, check its flexibility. The right pair of headphones will not break easily, even when bent.
6. Speakers
Another piece of gear essential in complementing a DJ setup is a pair of speakers. There are different types of speakers DJs can use to hear their mixes. Studio monitor speakers will help entry-level DJs hear their mixes and give a clean and accurate sound. When you move up to big gigs, you'll discover that most venues have public address systems that you can use with an amplifier.
7. Cables and Adaptors
There are many different cables and there are certain ones you need to know about before investing in different DJ setups. Apart from the headphone mini-jack adaptor, some of the cables you will need include:
1. 2 RCA Phono cables – to connect audio interface.
2. USB cable – for recording purposes.
3. Power leads – to power up the equipment.
Some cables and adaptors you need are often included when you purchase your DJ equipment. But it's always good to know the different cables and how they are used within DJ setups.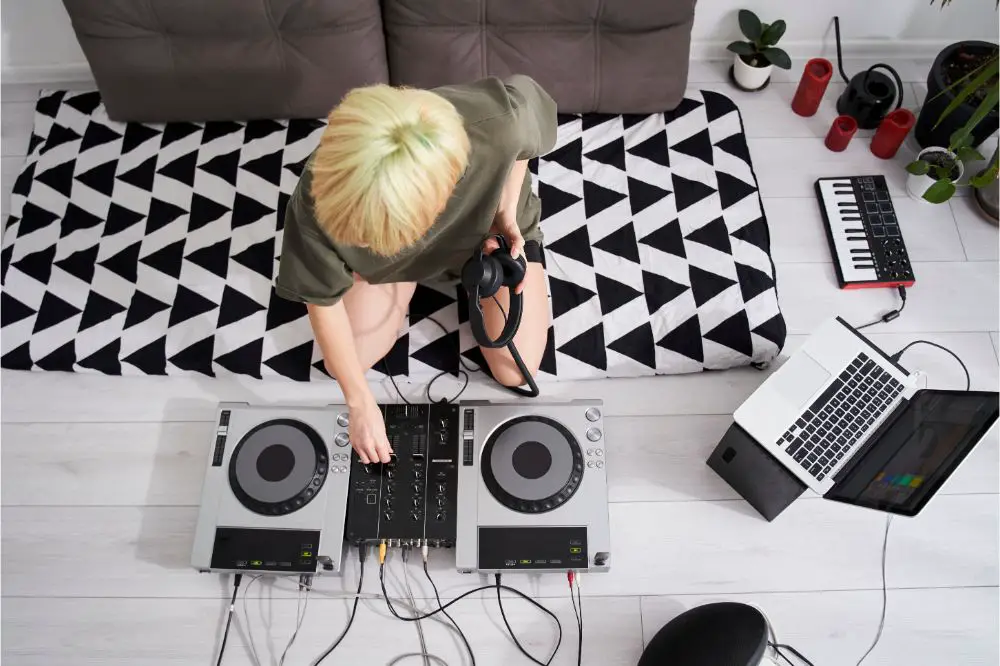 What You Need for a Basic, Budget-Friendly DJ Setup
DJ setups vary among DJs. The complete setup of a DJ depends on their musical style and individual preference. For beginners with a preference for the classic turntable setup, here's a sample setup:
Two turntables

DJ mixer

Headphones

Monitor speakers, which are optional

USB/audio interface, which is also optional
Here is another sample setup for beginners:
DJ controller

Laptop

DJ software

Headphones

Speakers
Tips for Creating an Entry-level DJ Setup
You do not need to purchase expensive professional DJ equipment as a beginner. You can save money by considering the following tips:
1. Go for a DJ Controller. You can save money by getting a modern DJ controller instead of a mixer. These streamline crossfading, cueing up, and manipulating tracks and have crossfaders that allow a smooth transition from one track to the next. Some have Bluetooth connectivity and built-in media players. An all-in-one unit easily makes DJing simpler.
2. Consider getting a bundled package. If you can do without big brand names, you can choose bundled packages and get more value from them. Some packages include a 2-channel DJ controller, headphones, speakers, and DJ software.
3. Get a subwoofer. A subwoofer produces the bass and sub-bass within music; dance music fans expect to hear these. Investing in this loudspeaker will help amplify your bass sounds.
Final Thoughts
With just a few simple pieces of equipment, you can have a beginner DJ setup and create magic with what you have. You may decide to purchase your gear or rent it. With the extra information you have on the different pieces of a DJ setup, as well as how to build a setup at an affordable price, you can create great sounds and have fun at it.