Building a professional DJ career starts with getting the right DJ equipment and a software platform. When starting out, you'll have to choose a streamlined DJ setup that needs less equipment. You can start with simple options like a laptop and DJ software or a mixer with two turntables for someone with a low fixed budget. While equipment combinations will vary among DJs, there are essentials that you will need, including a mixer, DJ software, monitor speakers, headphones, and vinyl records.
The DJ mixer is a piece of mixing console equipment used by DJs to manipulate, control, and transition between several audio signals. When playing records at events or dance clubs, turntablists and hip-hop DJs use this gadget to make new sounds or switch from one song to another. DJ mixers allow several audio inputs merging them all and allowing the user to alter the music frequency accordingly. Hip-hop, electronic music DJs, and other genre turntablists also use this mixing console to create loops, beats, and scratch sound effects.
To use a DJ mixer, you must plug in one or several audio sources. The sound source commonly consists of CDJs, compact cassettes, a laptop, or a record turntable. Most DJ equipment uses HD and MIDI protocols to communicate with computers and laptops via dual USB connections port.
One of the amazing features of this digital mixer equipment is how it allows users to preview the incoming song in their headphones before they play it to the audience. The more features a DJ audio mixer has, the more you will pay. For instance, most mid-priced mixing consoles can accommodate two CD players, while higher-end mixers used in nightclubs accommodate up to four.
Beginner-Friendly 2-Channel Mixers
A 2-channel DJ mixer best suits people who are amateurs in DJing but can also be used by pro DJs looking for a 4-channel mixer alternative. One thing that makes a 2-channel mixer beginner-friendly is its price, as they cost much less than 4-channel mixers. For a starting DJ with less money, this is an affordable choice.
Aside from its cheap cost, a 2-channel mixer is more space-conservative than a 4-channel mixer. Such a unit is suitable for a beginner with a small space for equipment setup.
2-channel mixing consoles will enhance a beginner DJ's performance as they have fewer things to worry about when performing. With a 4-channel mixer, you will have less focus time on any specific area as your attention is needed in various areas for correct functionality due to its complexity. Thus, with the 4-channel, you risk making accidental mistakes.
Description
Compared to other sound mixing tools used in sound recording and audio reinforcement systems, DJ mixer equipment is normally smaller in size. A typical mixing console has only 2 or 4-channel mixer input, while nightclub mixers have around 24 inputs. The major key feature that a DJ mixer equipment has that other larger sound mixers don't is its ability to cue or redirect sounds to the DJ's headphones output from a non-playing source. This allows the disk jockey to find and play the track's desired part.
Aside from merging soundtracks, a mixer also has a volume control that turns up or down the volume of certain channels and allows additional effects like manipulation of audio frequencies. This means that you, as the user, can turn down treble or bass independently without affecting other channels.
Most DJ controllers have an industry-standard software DJ system that enables the disk jockey to blend various music genres. Although they come with knobs, faders, jog wheels, touch strips, encoders, and backlit buttons, you will still require a DJ mixer to blend various sound signals.
You must know the basic essential features of the mixer and then learn the functions of control buttons, parts, and knobs to make a good DJ. Below is a short description and state function of key parts in a DJ mixer.
EQ faders
It has three different knobs, the low, mid, and high, that can alter the sound frequencies.
EQ adjustments knobs
Frequency adjustments that allow you to alter tones for audio inputs are a function control of equalizer knobs. This removes any sound distortion and smooths the playing music.
Crossfader
A crossfader comes into play when transitioning between songs and is essential for cutting and controlling audio in each input.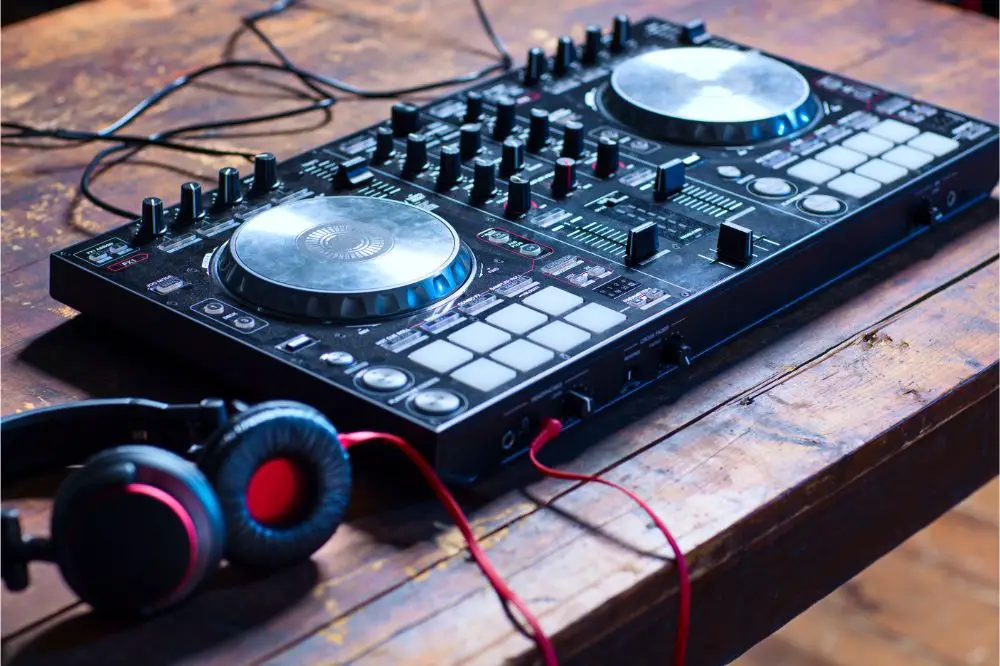 Jog wheel
The turntable jog wheel's pattern is similar to the vinyl records design. Spinning the jog wheel creates the scratch effect, while touching the wheel's top stops the soundtrack.
Beat FX
The beat FX controls the flanger, echo, and other audio FX. You can also change each effect's length to your liking and intensify them.
Encoder
The sound encoder, as a software and hardware assortment system, converts analog audio signals to digital files, thus allowing the play of many formats.
Outputs
A DJ mixer has various output systems that are plugged into a PA or sound reinforcement system at events and dance floor nightclubs. Powered amplifiers are a part of the audio reinforcement system that helps amplify audio waves to levels that improve their quality.
The booth output that features balanced mono XLR or TRS connections permits a connection to several speakers residing in the DJ booth. The MIDI output port links drum machines and external synths to MIDI clock data.
The USB port can serve as both an output and input port, allowing DJs to link the mixer to a laptop and access its sound card. It also allows the computer to send or receive music data to the mixing console, suiting DJs who want to record their performances.
The microphone input facilitates TRS and XLR connection to microphones boosting the mic signals, while the headphone port allows the connection of headsets with ¼ or 1/8-inch size TRS cables. The phono output connection has a pre-amp feature that boosts and equalizes signals received from the turntable.
Another useful output is the link port which connects the DJ mixing console to other gadgets such as samplers facilitating the sharing of beat grids.
Power
A digital mixer needs a power connection of around 100W to function, but power consumption will vary with the equipment model and use of hours.
History
The DJing history dates back to the 1950s when radio stations started streaming music on air during talk breaks. As the musical broadcast gained popularity among listeners, the need for specialized equipment became evident. The advanced equipment was to facilitate a smooth transition from one song to the next, and in a few years, technology advanced, giving birth to modern-day DJ equipment. Here is a short evolution history of the equipment
In 1877, inventor Thomas Edison made the first phonograph that could play and record audio. Between 1964 and 1965, the first stereophonic two-channel sound disco system debuted at The World's Fair in New York. In 1971, the first DJ mixing console was designed by Alex Rosner and allowed DJs to mix two audio decks, and it was followed by the invention of the "scratching" effect in 1975. A breakthrough in transition control was achieved in 1977 when a US-made mixer allowed rapid transition with a single hand from one record to another.
In 1995, the world's technologically advanced, and MP3s were introduced. In 1998, DJ performances were enhanced by the invention of flanging, filtering, and echo effects, and the first CD vinyl turntable was launched in 2001. Fast forward to 2008, Serato launched a Video-SL plug-in software that allows playback and mixing of video files using a turntable mixer and a laptop.
In 2010, a dual-USB port mixer was launched, allowing two DJs to perform sets by linking their laptops. The 2010-era DJ mixers were replaced by Rane Sixty-Two Mixer, which has dedicated buttons for samples, cues, onboard effects, and loops. This changed the DJing game from an analog mixer to digitalized DJing.