Many people ask how to connect their Serato DJ controller to their laptops. Don't worry, this is a very common question. In the beginning, things might seem a bit complicated, but it won't take long for this to become second nature.
These days, you have a choice of a number of different controllers when it comes to becoming a DJ. You may have more controller options depending on what type of DJ software you intend to use. Serato is often considered the most popular of the four main DJ software, Traktor, Serato, Engine, and, Rekordbox. Here we will look at how to connect a DJ controller to a laptop.
Installation Process
Step 1 – Start Serato
As soon as your controller is plugged into your laptop, it's likely that you will begin playing some music. Therefore, before you hook anything up, make sure you have some music prepared in Serato. It's possible to do this in several ways, but one of the best ways is to use the integrated "Crate" system.
Adding a Crate
In the top left corner, click the little yellow crate icon. For example, in the file list below, you will see the crate. Specify a name for the file by double-clicking, then click "Files" in the upper right corner of your screen. Doing this allows you to access your computer files directly through the software instead of having to navigate separately for them.
As soon as you have located your files, drag them into the crate you have created.
In addition, Serato has partnered with streaming services, found under settings, the library, then display/music streaming. Almost there, now you're ready to connect your laptop and controller, but before you do that, you need to check the audio files you transferred to the Serato crate. Here's how you can do it…
A crate can be selected by clicking on it.
You can select individual tracks or the entire crate.
On the top left-hand corner of the screen, drag and drop the files into the "Analyze Files" tile.
Afterward, Serato will check the files for corruption, determine key values and BPMs, and produce beat grids.
Step 2 – Powering Your Controller
It's now possible to get USB-powered DJ controllers, which means they are powered by your computer — so you don't need an adapter! Those that require the main outlet must be plugged in. When this is the case with your controller, locate its adapter, connect it, and you're good to go.
Step 3 – The Connection Between Your Laptop and Your Controller
USB connection is the most common connection method for connecting controllers to laptops and computers, so you'll need a USB cable. However, you can buy these from most tech shops if you do not have additional cables.
The USB cable should be plugged into the controller's USB port and the other goes into the USB port on your computer. There will be a little shift in the Serato UI, but it shouldn't cause any issues. This is actually a good sign. A new UI is being created to enhance compatibility with your controller, which means Serato has registered your controller.
Step 4 – Audio Connections for DJ Controllers
All is good so far, but in order to mix music, you will need an audio source connected to your controller. The RCA Adapter audio stereo cables are needed to accomplish this. The moment you have one…
Your controller's red port needs to be plugged into the red cable.
Connect your controller's yellow port to the yellow cable.
The AUX connector on the cable connects to your sound source.
Serato DJ and Midi Controller: How Do I Use It?
When you buy an all-in-one controller, you can usually expect it to have some form of MIDI capability, such as the two-channel performance DJ controller. In most cases, these facilities are either pad grids, faders, or dials.
There will be a function for each of these controls out of the box, but they can be re-assigned to Serato-specific features. The steps are as follows…
Step 1. Serato should be opened.
Step 2. Your controller should be powered up and connected to your laptop.
Step 3. Serato has a gear icon at the top right corner of the screen that can be used to open the settings menu.
Step 4. The "Midi" menu is at the screen's top.
Step 5. The controller needs to appear under "Midi Devices."
Step 6. At the top of the list of Midi Devices, select "Allow Serato Hardware Remapping."
Step 7. Go back to the Serato main screen and select the "Midi" tab found at the top left of the gear. Click help, then My Serato tap will open the assigned mode.
Step 8. Choose the Serato feature you want to map, then either repress, turn, or move the Midi control to tell it where to go.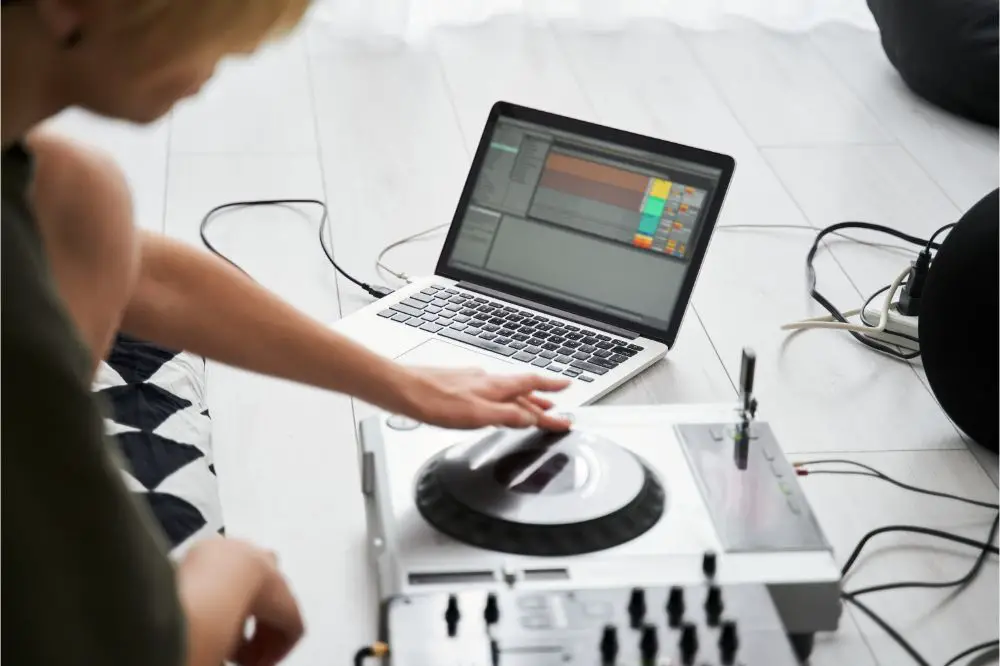 DJ Controllers Have Many Benefits
DJ controllers have some advantages over traditional DJ setups, as outlined below.
Affordability
In order to use a traditional setup, you'll need a mixer and two decks at least. Furthermore, in today's age of digital access to music files, a computer will still be necessary to keep track of the music and sounds that you frequently mix. Additionally, you need several USB sticks to load your decks with songs. By contrast, the DJ controller setup costs much less because you only need a controller and a laptop.
Easily Transportable
A notable aspect of DJ controllers used with FL Studio and Traktor is that the computer produces and processes the sound. Modern PCs are capable of doing the job while remaining compact. This has the advantage of not requiring many electrical components in the controller to operate. As a result, modern DJ controllers are becoming smaller and more portable, making them easier to transport.
Modern-day Adaptability
Integration with DJ software has another side effect. The software development process seems to be easier than the hardware development process since there is no need to use raw materials. Due to this, DJ apps are constantly updated and improved, and additional effects are added. Users are then able to use the updated apps with their old hardware by updating their old apps.
You Need a Good Laptop
A good laptop is obviously necessary. Unfortunately, DJ software for laptops won't run on an old laptop running Windows Vista. Sorry to the Vista lovers, it's a goodie but too much of an oldie for this type of thing. Is there a definition of a "good laptop"? A dodgy mouse on an old laptop will not be the best option, but that doesn't mean you should expect a brand new $200 laptop to meet your needs.
You need something with good RAM and a reliable processor. There are computers perfect for this sort of thing; however, it may somewhat hurt your financial feelings. You can speak to the tech professionals if you are unsure what type of laptop is best for what you want to do.
Conclusion
The Serato DJ controller will now be officially connected to your laptop. It will give you good audio quality and a wide range of features. The integrated Midi controller will also allow you to customize things to your liking. You can add more hardware like a separate amplifier and other software and hardware for better sound output.
It's now just a matter of practicing.
You'll gain access to one of the best DJ software programs when you learn how to install and use a Serato controller. Then, you will be well on your way to becoming a successful DJ. Good luck!