DJ equipment is constantly changing. In recent decades, turntables gave way to CDJs, and later to Traktor and Serato controllers that turn computers into DJ equipment. However, the exciting world of standalone controllers has recently entered a new era. These controllers have plenty of features that make deejaying much less bulky and hassle-free.
Suppose you don't know much about standalone controllers. In that case, we offer simple insights to help you get familiar with this type of DJ controller.
Standalone DJ Systems: What Are They?
In contrast to DJ controllers, standalone units include a full set of hardware in a self-contained system. They are solely intended to mix music without the need for a laptop. It is still common for DJs to use regular DJ controllers, particularly for beginners, but the all-in-one controller is becoming more popular.
With this, you can enjoy CDJ-like experiences without carrying around a lot of equipment. These even include built-in speakers for smaller occasions. Many have built-in WiFi functionality. Even going for a cheaper version, you are still going to get better features.
These DJ Systems Are Designed for Who?
If you fall into one of these three categories, an all-in-one DJ system may be right for you:
Whether you're an experienced home DJ or setting up a studio setup, you're looking for a high-end DJ system that doesn't come with a huge price.
For your gigs, you are looking for a mobile DJ unit with a fantastic screen that doesn't require a laptop.
Your dream is to DJ without a computer in your bedroom or as a hobby using a standard all-in-one system.
What Are the Benefits of Buying a Standalone DJ Controller?
A standalone DJ controller that can be played in a variety of situations. You might prefer to avoid taking a laptop when you go places, especially if you walk or take public transport. The type of laptop you will need is expensive, so you risk another item to carry around that can be lost or stolen.
An all-in-one DJ controller usually offers more functions than standard DJ controllers. As a result of the audio interface, you will be able to work with your music in various ways rather than having to log into complex laptop software. The software allows you to easily sidestep many of the complicated parts of DJing, such as MIDI mapping, making it easy to get started.
Top Quality DJ Controllers
Pioneer XDJ-RX2 DJ System
This controller provides both the precision and flexibility of a software DJ system with the intuitive workflow of a dedicated hardware DJ system. Not to mention the range of features like high-quality, uncompressed audio files.
The XDJ-RX2 DJ System is a true all-in-one rig with no compromises:
Full-color 7-inch touchscreen
The functionality of the CDJ 2000 NXS2 and the DJM 9000 NXS2
Pads for RGB cues and samples
Two line/phone inputs
Talkover for dual microphone control
The Pioneer DJ XDJ-RX2 earns the best value award on this list due to its outstanding value for money. As a replica of the infamous Pioneer CDJ2000 NXS2 and the Pioneer DJM9000 NXS2, fans of Pioneer will love it.
The Pioneer DJ XDJ-RX2 shares the same buttons, faders, jog wheel, and functionality as Pioneer's most famous DJ equipment, which includes its most popular XDJ mixer, but in a sleeker and more minimalistic form.
Denon DJ Prime 4
The Denon DJ Prime 4 features a large 10.1-inch touch screen with a capacitive touch display to give users feedback and a smooth navigation experience. In addition to the SATA drive bay, you can easily plug in your entire music collection, forget about your laptop, and concentrate on your performance instead of worrying about laptop connections and software.
2 output zones for use in multiple rooms or sound systems
An SD card reader and four USB ports are included
TIDAL (built-in WiFi) and Beatport (with Beatport streaming) directly via Beatport, SoundcloudGO+, Dropbox, and SoundcloudGO
Separate microphone inputs
Touch controls and touchscreen measuring 10.1 inches
The Denon Prime 4 is a solid one that needs acknowledgment. Even though it carries a hefty price tag, there are many wonderful things about this particular unit. Things that are simply out of this world when you compare them with other traditional ones. The large, high-res 10.1-inch touchscreen offers seamless integration and a simple-to-use audio interface. It is an excellent pick for both beginners and intermediates.
The prime 4 has four individual USB inputs – plus the added convenience of an SD card slot and a SATA drive connection. This means you can connect almost any external media source to the Prime 4.
This controller also has DAW time-stretching features allowing the user to match the key of one song to another or lock the pitch of a mix in order to have more freedom and flow when mixing tracks.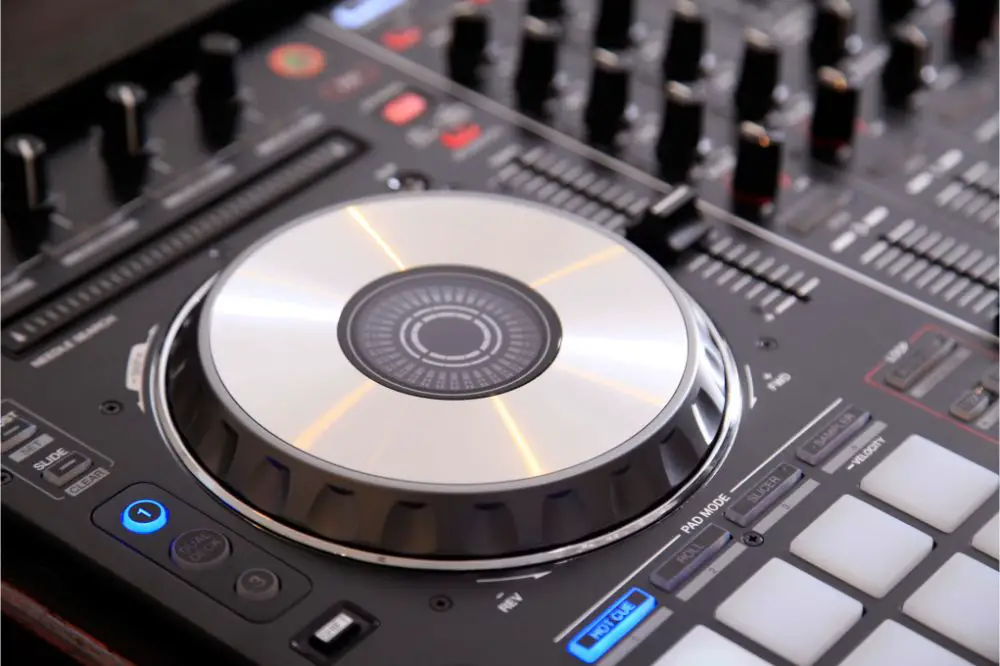 The Advantages of Standalone
Standalone DJ all-in-one controller systems are hugely appealing to DJs who don't want to have a laptop controlling everything when they're DJing. On the other hand, maybe you think it looks a bit old-school to be DJing using a laptop. Or maybe you want to also use "grown-up" club gear when you're DJing out and about and want to have a similar type of setup at home.
One reason standalone systems are getting more popular is that nowadays, they're getting really powerful. Indeed, they're starting to feel like they've basically got a computer embedded in them – well when you think about it, they have! They have internal software with powerful processors and excellent integration, just like a good quality computer would have.
Touchscreens, great graphics, smooth animation, powerful DJ features, built-in music streaming services… the best of the current crop of standalone, all-in-one DJ systems can give you all of this – and not a laptop screen in sight. Standalone unit systems can come with different screen sizes and without the worry of separate screens. You can plug in external devices and powerful processors if you need to as a once-off. With WiFi connections, you have access to streaming services, Rekordbox software, and professional-level DJ software right when you need it.
Pros of Standalone DJing
Systems that play music from USB drives have moved on a lot in recent years. By preparing that music ahead of time (and yes, to do that, you still need a laptop), these systems now have many of the features of laptop DJing, just with no laptop. So why do some people prefer this way?
Makes more sense if you want to play in clubs, too – This way of DJing with club mixers is the same as how pro DJs do it in clubs, so if that's your ultimate aim, it may make sense to do it this way at home. In the case of the Pioneer DJ standalone gear, the same USB drive you prepare for your all-in-one standalone gear can also be used as-is on club gear.
Easier when you're coming from vinyl mode or CD background – Switching from the "old way" of DJing to a laptop screen with software can be daunting. Many DJs who've taken this route find it easier to switch to playing with a standalone system because, really, you're just switching a box of records or a wallet of CDs for individual USB inputs and drive.
Less screen staring – By its nature, standalone gear encourages you to not delve too deeply into using the screen. This is because the screen is smaller and further away from you. For some, this encourages a more direct connection with the audience, resulting in more enjoyable DJ sets.
Less to go wrong – Standalone DJing is simple, involving just you, a pair of headphones, and a USB stick. The gear is super reliable, whereas the chances of things going wrong when you have to connect your laptop and set up the software are more complex. This is a big advantage of an all-in-one DJ controller for people who stress a lot when deejaying.
Conclusion
Standalone DJ controllers are growing in popularity and it's easy to see why. If you are using other variants, try this version of DJ controllers and see if it offers more benefits. Start with a basic model and upgrade to a more sophisticated type.