When you buy your first deck, you won't be able to wipe the smile off your face! Instead, you'll be excited to learn how to mix your first few party mixes as soon as you plug it in. The party mix's built-in light show makes for the perfect party atmosphere.
During DJ mixing, multiple tracks play together simultaneously with smooth transitions between them. Check out these tips on mixing your DJ sets.
How Does a DJ Controller Work?
For a complete understanding of DJ controllers and what they do, a basic understanding of DJ software is necessary. Many DJ software programs are available, such as Serato DJ Pro, Ableton Live, and Atomix VirtualDJ Pro.
You can combine different tracks with this kind of software to create a remixed alternative with your mouse and keyboard. Think of the music library you could create. Unfortunately, this isn't the main purpose of keyboards and mice, making controlling software more difficult and DJ controllers more useful.
You can sometimes map the controls on DJ controllers based on your preferences to make the DJ experience more easy-to-use and enjoyable at the same time. However, audio is not technically mixed. DJ software and your computer are responsible for this. They provide instructions to the computer on the process of doing this.
Additionally, DJ controllers generally have a built-in integrated soundcard. This is made easier by previewing the remixed tracks due to the supplemental outputs before it goes to the main output, which is what the audience hears.
Most controllers offer pitch control, backlit controls, headphone output, pre-loaded samples, performance modes with looping, and even a built-in light show. For perfect sound for the ultimate party, consider the Serato Lite or the Serato Pro version.
DJ Controllers Functions
Using the Crossfader
The first thing I would advise you to do when you start DJing is to practice using the crossfader when mixing tracks. This will help you learn and develop your ability to mix tracks within the appropriate sections or phrases.
Keep it simple at first and learn to understand phrases and beat matching basics.
Cue/Play
Choose the technique that suits you best. For example, cue and play buttons make it easy to cue up tracks to match live music.
The cue button can cue up a track by tapping it in time with the live track, then playing and matching the beat. As you release the play button, the track continues to play. However, when the cue button is released, the track is stopped.
Wheel of Motion
A jogwheel works similarly by letting you move the track's first beat. You move the jogwheel instead of pressing a button. When you are ready to play the track, release the jogwheel.
You will learn much quicker if you choose a preferred method. If you are entirely new to DJing, you will probably find the cue button to be the easiest. The jogwheel might be easier for DJs who have previously mixed on CDJs or turntables.
Cue Point Setting
DJs can mix creatively with the cue point setting, and adding new tracks is much quicker. Set cue points throughout the audio as you listen to your DJ tracks. Halfway through an intro, set a cue point while mixing in the breakdown so the drop will be quicker with a cue point.
Put a cue point at the beginning of the breakdown so that two breakdowns can be mixed together. It will even allow you to combine two tracks from deck 1 and deck 2 to simultaneously create one.
Provide cues to where certain sounds within the audio might be sampled or looped. By using the performance pads for effects, you'll be able to loop and sample in creative ways. With the master volume and gain knobs, you can control redlining.
Every time a channel signal hits the red, distortion occurs. Therefore, ensure that each track has enough headroom via the master gain controls on each channel so that listeners receive the highest quality sound. You can adjust the channel gain knobs both on DJ controllers and in DJ software if necessary.
There may be audio tracks that have been over-processed and are way too loud. There is also the possibility of the opposite happening. It might be necessary to adjust the gain more to listen to new demo tracks since they might not be mastered well.
Mixing by Ear Rather Than Using DJ Software's Audio Waves
You might be able to see the audio waves moving on a digital screen on your DJ controller after pressing the play button.
If you use a digital screen, I recommend covering the audio waves with paper. Try doing the same or moving the window out of sight if you have DJ software. In this case, I suggest not relying too heavily on visually matching tracks. Instead, it is most important to match beats by ear, as this allows you to DJ on any equipment you choose.
Practice Mixing Similar or Identical Songs
Deejaying for the first time was a learning experience for me, learning how to beat match tracks and learning how to use my new equipment.
When you first get a DJ controller, choose two tracks you are really familiar with and play with them a few times to learn how the controls work and how to mix by ear.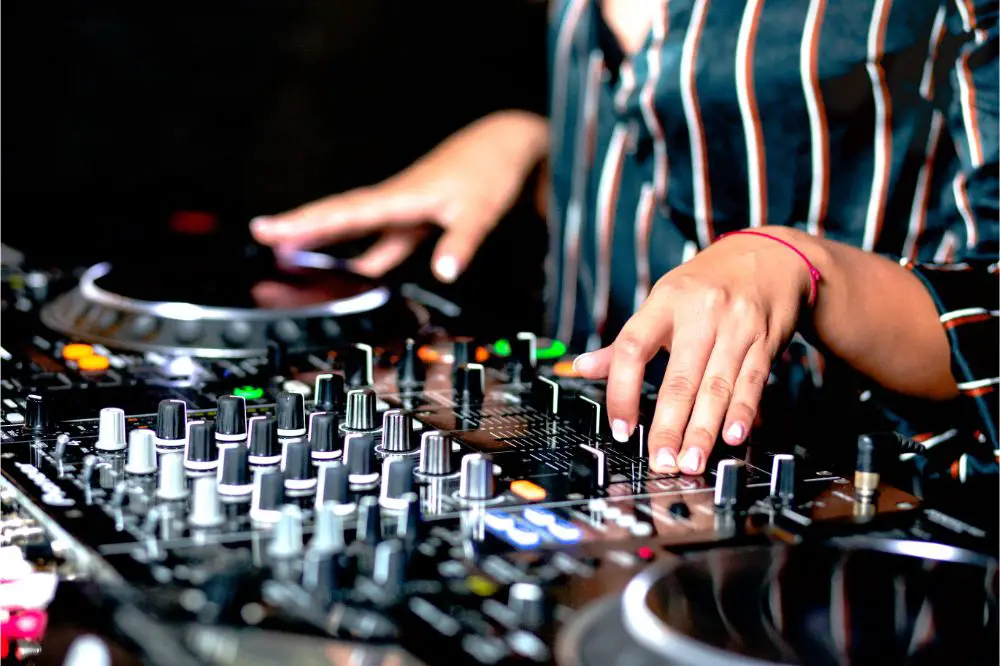 Common Buttons You Will Use When Mixing
There is likely to be no difference in your DJ controller's button layout and function, no matter what DJ software you are using. From the Mix II Serato DJ controller to the Numark Party Live DJ Controller Set with lights, you can expect the following controls.
Play/Pause
As the name indicates, you can play or pause a track by clicking this button.
Hot Cue
Hot cues are similar to cues in that they mark specific parts of the song that can be accessed at any time. It is noteworthy that you can mark more than one hot cue point on a song. The software and machine will keep track of them.
Sync
Using a similar BPM or song tempo when transitioning between tracks is one of the basics of DJing. As soon as you press the sync button, it synchronizes the BPM of the second channel with the current channel, making the transition smoother.
Auto Loop
Another self-explanatory button. Using it can create a loop area in which a part of the song keeps repeating until it is turned off. The best way to use it is to create quick loops.
Manual Loop
There is almost no difference between a manual loop and an auto loop except that you have to provide extra input. Loops are typically started and ended using the available pads. If you don't like the result, you can tweak it with other sound effects.
Audio Samples
DJing software's beat-based effects can be played using this button. Names and contact information of DJs are examples.
Shift
There are some buttons on the machine that serve two purposes. The first function can only be activated by pressing them without enabling the second. The shift comes into play here. Press the button with different functions and the shift button so the second feature will be activated.
You may also be able to rewind by pressing the cue button. Upon pressing this button alone, a song will cue. Pressing shift + cue, on the other hand, will activate the secondary function, rewind.
Motorized Platter
On some amazing DJ controllers, the motorized platter is also a popular control. It spins like an old-school turntable while playing tracks and even supports similar functions. Due to these advanced features, DJ controllers with platters are ideal for scratching. This hardware part allows you to stop the song, pause, slow it down, and more.
Screen
A higher-end DJ controller may also have a built-in audio interface touch screen that can perform multiple functions. Reviewers said the Pioneer DJ System had the best screen in the industry market. The mixing is easy because it has a large screen and provides a lot of visual feedback. Furthermore, it has a lot of features that are suitable for professional DJs.
Conclusion
Most DJ controllers have a USB connection meaning they connect via a USB cable for an effortless connection.
It is fairly easy to mix with a Numark 2-channel DJ controller once you get the hang of it. With all the features and controls, it can seem daunting, but deejaying is actually made easier using the controller without complicated setups. Try it and muck around for a while. Nothing serious. Get a feel for it, get familiar, and see what you can end up creating.